Crush Your Goals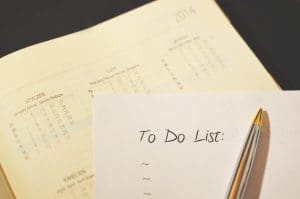 Being in school and having a lot on my plate, I need to keep myself organized and accountable. To do this, I often set goals for what I need to do and when I need to accomplish that goal. It helps me focus on what is important and not forget anything.
When I was first deciding how to set goals, it was overwhelming to see how much I needed to do and in such a short amount of time. For a while, my goals were causing me more anxiety then they were helping me stay on task. It was too much to do and there was no way I was going to be able to hit all my goals for a semester of class. I confided in friends and family who gave me some great tips on setting goals and successfully accomplishing them.
1. Set SMART goals
I learned this when I was a psychology major and it has stuck with me ever since. A SMART goal is a goal that is specific, measurable, attainable, relevant and timely. This helps me keep my goals realistic and relevant to my daily life and activities.
2. Tell others about your goals
Telling my family and friends about my goals helps me stay accountable. They are so supportive and are constantly cheering me on.
3. Be flexible
Even though I set goals to be able to accomplish tasks on time, I need to understand that my goals and time frames can be flexible. This gives me the chance to not stress out about not getting a goal done exactly the right way and in the right time frame. This tip definitely helps with my anxiety and overwhelming thoughts.
4. Write down your goals
Seeing those goals on a sticky note on a mirror or in your planner will help you remember and keep on task. I know if I have a goal that I am constantly being reminded of, it keeps me working toward it and move toward my next goal.
5. Stick with your goals
I know it can sometimes be hard to work toward your goals, especially when they are long and tough but, being able to check off a goal that you have been working toward for a long time is such a rewarding feeling!
Using these steps has helped me become more efficient and more organized in my daily life. Setting goals helps me stay on track as a student and can help in almost anyone's life.
---
If you make goals, what are some ways you help stay on task and accomplish them? Are you setting goals as you self-isolate? Are there ways that you're setting goals so you don't get overwhelmed or anxious about meeting all of them?