Making Art Online
Sometimes it can be nice to distract yourself with something fun you can create!
Weavesilk is a site that allows you to make symmetrical art easily with only a mouse.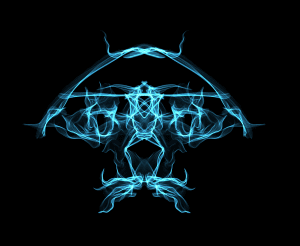 Here is a drawing I did just now with the trackpad on my laptop. What do you think it looks like—a cat, or a jellyfish, or a spaceship?
Some tips:
Once at the site, click "Draw something"
In the upper left hand corner, there is a blue dot. However over it—it should say 'controls'
Click on that—it will show 7 colors, and you can change the color you are working with by clicking on the color you want
You can also mix colors, by holding onto color with your mouse and dragging it to another dot of color
You can also play with the bar labeled "rotational symmetry," and turn the 'mirror across center' and 'spiral towards center' on or off
Draw by clicking in the center and moving your mouse
Hit space to clear the page, and z to undo
What other sites do you like to use when you need a distraction? Let us know in the comments!