Positivity During Thanksgiving
You've probably seen a lot of posts and ads about giving thanks, especially now that the Thanksgiving holiday is near. In general, this time of year is one meant to be filled with joy and positivity, sharing events with loved ones and making memories.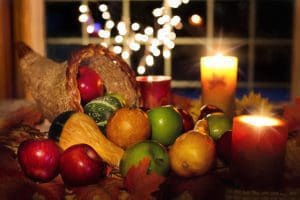 It can be difficult to have these feelings however, especially with mental illness. This in addition to the stressors that can pop up during the season, particularly if your relationship with family members can be tense, finances can be an issue, or social anxiety spikes with the increase of shopping crowds and relatives (and not to mention feeling conflicted about the history of the holiday too). While it's meant to be celebrated, it's hard for some to be positive during this time of year, especially if they feel like they need to meet these exciting, celebratory expectations.
Positivity is an individual feeling, and can still be experienced, but just in different ways. If you find yourself having a hard time experiencing Thanksgiving the way it's "meant" to be celebrated, you can still find ways to enjoy the break for yourself. For example, NAMI has a few simple strategies specifically for staying positive for Thanksgiving. These include thinking about personal things that you're grateful for, volunteering and incorporating self-care.
There are other ways to find ways to cope with mental illness and negativity during the week too. Sometimes all you need is those few days off to recharge, whether it be meeting up with old friends or catching up on a show. If you're able to, now's the perfect time for some retail therapy, or maybe you find cooking and baking to be therapeutic (whether it's to help with Thanksgiving dinner or to have it just for yourself).
If you're still looking and want to seek for more advice about dealing with these feelings over the week, Healthy Place has a page specifically about the topic, with different linked articles relating to different issues. Ultimately, you can enjoy Thanksgiving and celebrate it – you get some days off from school and there's a chance of good food in some way – but there are other ways to find enjoyment in your own way too.
---
What are you doing for Thanksgiving? Do you think it can be difficult to be happy during the season? What do you to to relax over the break?