Sarahah app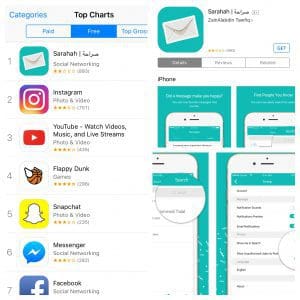 Sarahah is a relatively new app available for download from Apple's App Store.  The English version became available in June and since then the free app has skyrocketed to the No. 1 spot in Apple's App Store Top Charts.  Although the app appears to be in Arabic in Apple's App Store, once you download the app to your device, the text will be in English.
But what is it?
Sarahah is an app out of Saudi Arabia that is used to anonymously send and receive message from other users.  The word 'sarahah' means frankly or honestly in Arabic.  The app can also be linked to other social media apps such as Snapchat and Instagram, which only helped increase its popularity and use.  It is available for download to both iPhone and Android devices.
But what does it do?
The original idea behind Sarahah was for the app to be used in the business world.  It was first intended to allow employees to provide anonymous feedback to their bosses.  The idea being that people are more likely to be honest with their bosses if their messages are anonymous.  Quickly, it was realized that the app could be used in other places outside the business world.
There is not a lot of information about the app on Sarahah's website, however, they do have a FAQ page for people who are interested in learning more.  From this page it seems that the identity of all users is unknown and that each user has a username that can be given out to other people.  Once registered a user can message anyone without identifying themselves or others finding out who they are.  Recipients of the messages can only read the messages from other users, but apparently cannot reply to them.  There are several videos on YouTube showing Sarahah users how to use the app with most of them being tutorials on how to connect Sarahah to Snapchat.  It appears most users are learning about the app by downloading it directly to their phone and signing up, but you can find out more information by visiting this website.
What are the reviews for Sarahah?
According the Sarahah's website the app "helps you in discovering your strengths and areas for improvement by receiving honest feedback from your employees and your friends in a private manner."  However, many users have complained that Sarahah is the perfect app for cyberbullying with one reviewer writing: 'I don't recommend going on [Sarahah] unless you wish to be bullied."  Several articles have been written about the safety of Sarahah such as this article which refers to the app as a "breeding ground for hate."  On Apple's App Store more than half the ratings are just one star.
The developer behind the app still insists he wants Sarahah to be a positive place, and is working hard to follow in the steps of other social media platforms to reduce negativity.  For example, he is trying to add certain filters, as well as a tool to allow users to block people.  Lastly, Sarahah is not the only app of its kind.  Other anonymous apps like Yik Yak have been created and also been labeled as a bullying apps.
What do you think of Sarahah and other anonymous apps?  Have you used them or know others that do?  We would love to hear your experiences or thoughts!
Find out more about how to delete the Sarahah app from you phone.