Healthy Body, Healthy Mind
Do you find eating healthy to be a challenge? Is it difficult for you to find foods that are both nutritious and delicious? Here are some tips suggesting that healthy eating doesn't have to taste bad!
Harvard University studies show that "plant-based diet rich in vegetables, whole grains, healthy fats, and healthy proteins lowers the risk of weight gain and chronic disease."
Vegetables are often lacking in diets, specifically in children. A negative bias towards healthy foods like spinach and other greens often develops early on in life. Young children typically don't like how these veggies taste or smell. This makes it difficult for them to have a nutritious meal during school time. By preparing vegetables in a more appealing way, or by consuming them through snacks like kale chips or veggies straws, children can build a positive rapport with vegetables and incorporate them as a daily food group for lunch.
Fruits are another essential food group. Things like oranges and grapefruit are rich in Vitamin C and antioxidants. Bananas are high in potassium, and they promote a healthy heart. The good news when it comes to fruit is that there are different flavors for everybody. Some fruits are sweet, others are tart, and even still some are just satisfying to snack on. Packing a few fruits each day in that lunch box will surely give you the energy you need to be alert!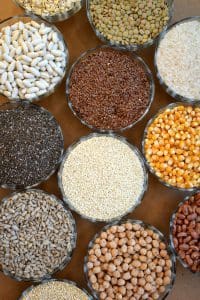 Whole grains are another component of a healthy diet. Various rices and breads may be some of the most delicious parts of dinner, but every once in a while, switching those item out for brown rice or quinoa, or even a veggie alternative like cauliflower, can provide your body with weight loss benefits while still being tasty.
When I eat a well-balanced diet, I feel like I have higher energy that lasts throughout the day, more positive thoughts, and increased productivity for both work and school. Sometimes it is difficult to eat healthy 24/7, but I try to find healthy alternatives and switch out harmful sugars when I can. Balance that healthy diet with some exercise and outdoor time during the week, and you'll find yourself off to the start of a great semester.
Resources:
https://www.health.harvard.edu/staying-healthy/harvard-researchers-launch-healthy-eating-plate
---
What are some of your favorite recipes/foods? Have you tried these alternatives before?