"Stand Together" Celebrates Another Successful Year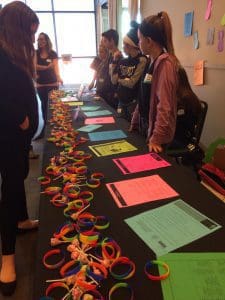 Today dozens of middle school students gathered at the Pittsburgh Heinz History Center to share the results of a year's work on Stand Together, a project to educate other students at their schools about the challenges of mental illness and substance use disorders, and to break the stigma of talking about mental health in ordinary conversation.
"I was in the program last year," one 14-year-old student said, "and I came back this year because I learned so much that I just wanted to share it with other kids at my school."
The program is coordinated by Allegheny County's Office of Behavioral Health and is run by just three staff members. Stand Together has been so successful at breaking down isolation among students with anxiety, depression, ADHD and eating disorders—the four most common mental health problems among students today—that the program now has a waiting list of schools wanting to get in on the action.
Here are some of the ways students have learned to bring awareness and break stigma among their peers:
Food giveaways to students who learn certain facts about mental illness (e.g., one in four people will confront mental health problems during any given year)
Printing custom T-shirts to wear in school to show solidarity
Painting murals on school walls with positive messages to educate students and uplift them during the day
Organizing events to help students talk to other students they may not ordinarily talk with, to break isolation
Creating wristbands with the #standtogether hashtag and the message, "It's okay not to be okay," to foster acceptance
It was super inspiring to see so many students show such openness to talking about mental health and willingness to bring positive messages to their peers! Congratulations to Stand Together!
Have you ever advocated among your own peers at school to help break stigma and create more open dialogue about mental health? What kind of a challenge was that? Let us know in the comments!