Becoming a Mental Health First-Responder
When we hear the term "first-responders," we usually think of the workers in an ambulance, ready to help people with physical health emergencies. But what about people who have mental health emergencies—who's trained and ready to help them?
I was recently certified in Mental Health First Aid (MHFA) through a free weekend course at my university. I learned:
the signs and symptoms of mental health difficulties

how to calm the person down

how to make sure they and others around them are safe

how to provide them with appropriate resources.
This course is NOT meant for you to administer care, but to stabilize the person and help them obtain professional help from local and national organizations and hotlines. It was a fantastic experience, and I would recommend it to everyone.

The course is sponsored by the U.S. chapter of the international organization, Mental Health First Aid. Other countries have this program with slight variations, as social and cultural differences lead to variations in prevalence, risk factors, national resources, etc. The course is a total of 8 hours, and depending on where/who is providing the course, it may be split into multiple days or done all at once. The certification lasts three years, since new research, social trends, and treatment options emerge constantly.
We went through statistics, risk factors, signs & symptoms, interventions, and available resources for the following mental health difficulties:
anxiety (includes obsessive-compulsive disorder, panic disorders, and phobias)
depression (multiple types)
psychosis (includes borderline disorder & schizophrenia, among others)
substance abuse
trauma & violence
eating disorders
While the specifics for each step are slightly different, they all follow the same mnemonic for taking action: ALGEE.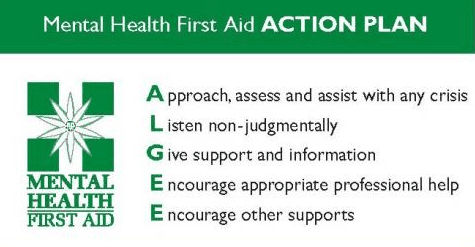 The course shows you how to apply ALGEE in each type of scenario and allows you to practice with case studies. This was the first MHFA training at my school, but they plan on holding many more sessions throughout the semester. Students and faculty are welcome to attend, and the course instructor is interested in making it a requirement for health-related graduate students and fraternity/sorority life. I was surprised to learn that healthcare workers in our local hospital system do not already have to do something like this. I think it would greatly benefit patients and stressed coworkers and reduce stigma.
Click here to see courses available near you!
What are your thoughts on mental health first aid? Would you take a course like this? Do you think healthcare workers or teachers should be required to learn ALGEE?