A Distant Notion
Most Americans are familiar with the saying, "Distance makes the heart grow fonder." Many can attest to its truth as well.
My girlfriend recently returned to her home state to visit her family for two weeks. Normally, she and I are side-by-side in the same city. We usually spend time together at least five or six days every week.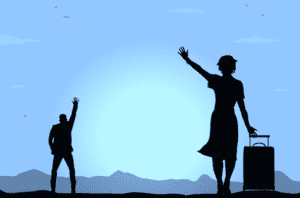 During this time apart from my girlfriend, I have experienced mixed emotions. In a way, it feels nice to have additional "me" time that I normally would not have. Though in many other ways, I miss having her here with me. After all, she is my best friend and closest confidant. Although we still connect daily via text message and occasionally over video call, it simply isn't the same as being in each other's physical presence.
People have often advised me to do what I can to keep a positive mindset in any situation. In the case of being temporarily distanced from my girlfriend, I take it as an opportunity to realize how grateful I am to be in a relationship with her. This momentary separation may in fact be an important reminder for both of us just how vital the other is in our lives.
---
Who is someone you have a close relationship with? Have you and that person experienced time apart from each other? How did/would being apart from that person affect you?