Radical Acceptance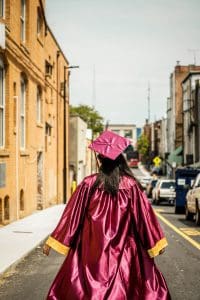 If I had known today how my life would be as I look towards the completion of my undergraduate degree, I would've been shocked by the person I am today. Everything about myself has changed; I finally came out as a lesbian and met my current girlfriend, I finished my chemistry degree, and I have taken charge of my own mental health.
There's been so many times that I didn't think I was going to make it and had doubts about my own abilities. I never was the smartest one in class, it took me longer to understand concepts compared to my peers, and I never thought I would be able to continue my chemistry education right out of undergrad. Chemistry was the hardest thing I've ever done and loved, and I've been working so hard that I didn't even realize the journey I took to get where I am today. I can hardly believe that I got accepted into my top choice for chemistry graduate school, and I've been working a lot on accepting myself and not allowing my negative thoughts to get in the way of this milestone.
In order to accept myself and everything going on in life, I've been telling myself the following:
I only have control over myself, so I will accept this and let things go.
This is the reality, and it is what it is.
I am in the present. I will be happy with it.
Nothing lasts forever. I can focus on what matters moving forward.
I want to continue to radically love myself and those around me. I will allow myself to celebrate because even though there is tremendous loss around me, this moment won't define me. In 10 years, I will remember the success and struggle to get into graduate school rather than the everyday stressors that life is throwing at me, and I will remember those around me that I love.
---
What are some of your most recent accomplishments? What are things that you are proud of yourself of doing, no matter how big or small?