Ditching the New Year Resolutions
While I have never been a huge on New Year resolutions, I do try to come up with new ways to start the year off in a way that helps me to become a better version of myself. For example, last year I set the small goal of flossing my teeth every night, which has now turned into a habit.  Trying to focus on what I can control throughout the year has been a challenge through 2020, but it has also helped to remind me of all of the little things I can control.
This year, I came across Jon Gordon's "One Word" mentality that was based off of his life and his book (One Word that Will Change Your Life). Jon Gordon has used this mentality in his own life for years and describes it as using one word for an entire year to shape your life. Past words that he has used included: PURPOSE, SURRENDER, SERVE, RISE, FORGIVE, STILL and CONNECTED.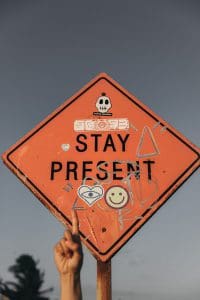 I thought that this way to start off the new year would be beneficial to me, since I prefer to not set goals, as I think sometimes I put too much pressure on myself to achieve such goals that it becomes detrimental to my own mental health. Therefore, I considered what my one word should be and have landed on the word PRESENT.
This word can be applied to a lot of facets of my life. For example, I wish to improve my relationships with my friends and family, so practicing being truly present in the moment when I am with them or talking to them allows me to fully listen, talk, and be there for them. I also wish to spend less time on my phone scrolling aimlessly through social media, so remembering the word PRESENT as my phone background I am consciously trying to put my phone down and be where my feet are. Lastly, given the state of the world, it is hard to not be living in the future, especially for myself as I graduate in the next year, but I also know it is incredibly important to remain fully present where I am today and every day until then while still allowing myself to be excited for the future.
I recommend trying to come up with one word that can be a driving force behind your 2021. I think whatever word first comes to your head when you sit and think about it is probably the one that best fits you, as it is on your mind. Whatever your word may be, remove the pressure and anxiety that resolutions can bring and allow yourself to be reminded of your word daily, and share it with the people around you so that they can help you through your year and your promise to yourself to uphold this word.
---
What is one word that you would want to define your year? Do you use affirmations, phrases, or already practice the one word mentality to help your mental health?