Thanks to TikTok, I Started Journaling Everyday
At the beginning of March, I came across a TikTok that expressed that this account was going to do a 31 day journaling challenge with a new prompt everyday for the month. Since I have been wanting to get into journaling myself, I thought this would be a fun way to try it out.
I told myself that each prompt for each day I would have to fill up just one page of my journal and that whatever I thought of first will be what I write, no second guessing what to put down onto paper. Most times I journaled in the morning, but also tried at various points of the day to see when I liked to do it best.
Now that I am coming to an end of the 31 days, I feel as though I have really slated into a new habit of journaling a little bit everyday. It has something that has grown with me this past month and sitting down to think about the prompts not only gives me dedicated time to myself, but gets my thoughts and feelings out on paper without judgement. I feel as though I have found some clarity in things as well that have been in my head for a while. The prompts have allowed me to reflect on various aspects of my life and myself, such as "How do I recharge?" or "I give myself permission not to know and let go of…".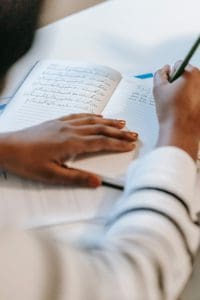 While TikTok is fun and has numerous videos that have made me laugh, I am glad that I came across this 31 day journaling challenge. To me, social media does have its rightful place in mental health and personal development if you try to find the resources on there. I hope that I am able to continue to journal after the end of March, especially since there are so many websites out there that have various journal prompts to search, as well. Who knows, maybe a new healthy habit will come from TikTok as well?
---
Do you use TikTok? What kind of content do you follow or what shows up on your For You Page? Do you ever get content about mental health or coping mechanisms to try out?