Ana Radovic, Project Director
Educational Background: I have a BA in Biology from Case Western Reserve University in Cleveland and also went to medical school there for my MD. Then I did pediatrics residency and adolescent medicine fellowship at Children's Hospital of Pittsburgh. I also have a Masters in Clinical Science from the University of Pittsburgh.
If I had a magic wand, I would…
Get rid of all tobacco and drugs forever
Make healthcare universal and free for everyone
Mandatory 3 day weekends for everyone
---
Charlie Borowicz, Research Assistant, Moderator
---
Sharanya Bandla, Website Support
Educational Background: I am currently an undergraduate student at the University of Pittsburgh, majoring in Bioinformatics. I'm also proficient in the following languages: Java, Python, Swift, CSS, and HTML.
If I had a wand, I would…
Take away all the stigma and prejudice associated with individuals who suffer from mental illnesses, especially on college campuses.
Teleport from class to class so I'd never be late again!
---
Jing Hua, Website Support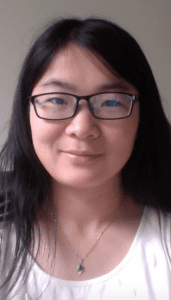 Educational Background:  My name is Jing Hua, currently a graduate student in the Department of Information Science at University of Pittsburgh. I got my bachelor's degree in computer science several years ago in China. I am good at web development, interface design and analysis, database management and android application development. I am also interested in E-business.
If I had a magic wand, I would…
Create a magic children's museum, where children have different experience each time they go.
Create an E-business application, where blind people and illiterate people  can shop online smoothly and safely.
---
STAKEHOLDER ADVISORY BOARD:
---
Amy Philips-Haller, Parent Advocate
Educational & Professional Background: A long-time graduate of California University of Pennsylvania, I hold a Bachelor's of Liberal Arts degree in Speech Communication with an emphasis in Mass Media.
I am a student and narrator of the human experience.   Over the years, I have documented stories for television in Atlanta, as well as produced Everyday Science, a show that aired worldwide on public radio.  Now a reporter, I generate headlines for local publications, including the Pittsburgh-Post Gazette.
Recently, I scripted It Pains Me to Discuss, a novel documenting the difficult journey of a child with a chronic health condition.  I share the draft with physicians, in hopes of expanding patient care conversation to include the parent component.  I also serve on two advisory panels for ongoing research projects at Children's Hospital.
If I had a magic wand, I would… have purchased it at Ollivanders.   Inside the carved mahogany would reside the feather of a phoenix.  Why?   Every day is an opportunity to rise from the ashes and begin again.
---
Rachel Whitman, Youth Advocate
Educational Background:  I have my BA in psychology (minor in anthropology) from the University of Virginia, my M.S.Ed. with a focus on Community Mental Health and Special Education Support from Duquesne University, and I am currently working on my EdD in Educational Leadership with a focus on disability studies at Duquesne University.
If I had a magic wand, I would… 
Make our world accessible in every way! Our understanding of "disability" is really just a social construct. We give someone a disability label because this person interacts with our world differently. Our default "normal person" is an able-bodied, neurotypical person – but there is so much beautiful diversity out there! We have to reconstruct our physical world and re-conceptualize our definition of humankind to reflect all types of people and thus respect all experiences, provide everyone equitable access to opportunities, and cultivate truly inclusive communities.
Provide all individuals with mental illnesses effective treatments that they can customize based on their needs. Some examples: psychiatric medications with no side effects, free health care, a medical system that really listens and truly honors stakeholder experience, and a cure for eating disorders (a category of mental illness that is so devastating and difficult to treat).
Body positivity and feminism for everyone!!!
Have a pet sloth who I would wear around the office so we could snuggle each other all day. Top three names: Humphrey, Agnes, or KaleChip